LingvoSoft Dictionary 2009 English <-> Arabic 4.1.29 Free download
License:
Free to try
Price:
$

34.95

(Software discounts)
Rated:
Downloads:
6200
Op. System:
Windows
Last updated:
2007-10-30
File size:
3.68 MB
Publisher:
ECTACO, Inc.
Related software:
Editor's review for LingvoSoft Dictionary 2009 English <-> Arabic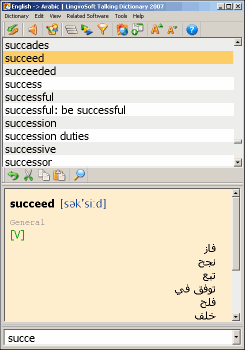 LingvoSoft Dictionary 2009 English - Arabic for Windows offers instant and accurate bilingual translations right on your desktop. It is a component of LingvoSoft Suite, which combines a Phrasebook and the Flashcards learning application and delivers an unsurpassed level of integration across the entire platform. Its key features are these: comprehensive and fully updated vocabulary database with integrated Explanatory English Dictionary Intelligent Spell-Check function advanced Synonym Search translations complete with part of speech, gender, comment, transcription, and examples. It Includes transcriptions for all English entries, and contains information about 40 languages. Its interface is user-friendly and Customizable.

Editor:Saqiblalas



'Lingvosoft Dictionary 2009 English-Arabic for Windows' is a desktop program and bilingual dictionary that contains more than 1,000,000 Entries .It effectively combines 2 learning applications namely the FlashCards and the PhraseBook applications. The vocabulary contained therein is very up-to-date and is, therefore, highly reliable. Other useful features by this bilingual dictionary include a two-way dictionary database , an intelligent spelling-check function, an advanced synonym search feature, categorized translations for different parameters such as gender, speech, transcriptions, comments and so on.The dictionary is part of the larger Lingvosoft Suite and comes with an interface that accommodates 5 languages.

Editor:SYNCOPY
LingvoSoft Dictionary 2009 English <-> Arabic site checked by SiteAdviser and does not contain spyware or malicious components
Featured downloads
Any To Icon Pro
Save 30% 10.49$ 7.34$
Tipard Video Converter
Save 35% 29$ 18.85$
Animated GIF Creator
Save 30% 29.95$ 20.96$
Shred Agent
Save 50% 80$ 40.00$

All software sale - actual coupons and discounts
Visual BCD Editor
Visual BCD is an advanced GUI version of Windows command line utility bcdedit. It is the first G...