LingvoSoft Dictionary 2009 English <-> Bulgarian 4.1.29 Free download
License:
Free to try
Price:
$

34.95

(Software discounts)
Rated:
Downloads:
2049
Op. System:
Windows
Last updated:
2005-11-29
File size:
4.18 MB
Publisher:
ECTACO, Inc.
Related software:
Editor's review for LingvoSoft Dictionary 2009 English <-> Bulgarian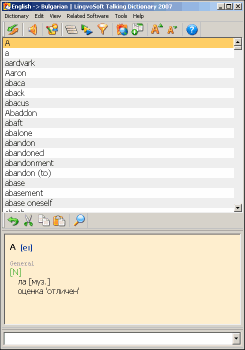 LingvoSoft Dictionary 2009 English - Bulgarian is accurate bilingual translating dictionary that features up to 1,000,000 entries and the latest programming innovations. It is a component of LingvoSoft Suite that combines a Phrasebook and the Flashcards learning application as well as it also delivers an unsurpassed level of integration across the entire platform. It has easy to use interface that includes updated vocabulary, and unique search Dictionaries. Its major features are it has updated and comprehensive bilingual, bidirectional vocabulary database with English Dictionary Intelligent Spell-Check function; it has customizable and English Grammar resources interface; it supports Synonym Search, and compatible with MS Word.
LingvoSoft Dictionary 2009 English <-> Bulgarian site checked by SiteAdviser and does not contain spyware or malicious components
Featured downloads
dvdPean
Save 28% 29.95$ 21.56$
D'Accord Guitar Method
Save 30% 49.9$ 34.93$
Picture Collage Maker
Save $10 29.9$ 19.90$
Glary Utilities Pro
Save 50% 39.95$ 19.98$

All software sale - actual coupons and discounts
Prompt! teleprompter
Prompt is an affordable simple teleprompter software solution for Mac and Windows. User configurable...