LingvoSoft Talking Dictionary English <-> Spanish for Palm OS 3.2.92 Free download
License:
Free to try
Price:
$

29.95

(Software discounts)
Rated:
Downloads:
54
Op. System:
Palm OS 4.0, Palm OS 4.1, Palm OS 5.0, Palm OS 5.2
Last updated:
03-21-2005
File size:
3.22 MB
Publisher:
ECTACO, Inc.
Related software:
Publisher description for LingvoSoft Talking Dictionary English <-> Spanish for Palm OS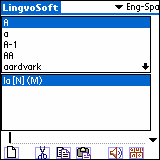 LingvoSoft Talking Dictionary English <-> Spanish for Palm OS with 400.000 words provides bidirectional word translation and speech synthesis.

Make your Palm speak English with LingvoSoft Talking Bidirectional Dictionary! Just select any English word and with one click make the speech synthesizer pronounce it for you. The synthesizer (Text-to-Speech engine) is based on a new approach to speech synthesis, i.e. formant synthesis, which creates a human voice simulation by modeling the sounds of natural language.

This new dictionary is an extensive language resource. It features a searchable database of 400,000 words and phrases. Each entry is completed with part of speech information and several translation options for all polysemantic words.

The new software is a combination of ease-of-use and flexibility.

The Talking Dictionary for Palm OS has the following features:
Special features:
- Advanced English speech synthesis. The function is built on the TTS (Text-to-Speech) technology.
- MorphoFinder function helps you find source words (headwords) for English past participles, gerunds, plural forms, and adjective forms
- Spell-checker Vector Ultima. It enables you to enter a word as you hear it and choose a spelling option from the list of suggestions.
- High Resolution support
General features:
- Overview of all dictionary entries in the Main List.
- Overview of all possible translations of the selected word in the Translations' List.
- Quick back translation for proof of correct understanding.
- Quick search function: just start typing a word in the Input Line and words starting with these letter combinations will be displayed.
- Switch between languages quickly. By pressing the pop-up trigger in the upper right corner you can change the translation direction.
Featured downloads
EDraw Flowchart ActiveX Control
Save 50% 2995$ 1497.50$
Binary Boy
Save $5 14.95$ 9.95$
Acala DVD Copy
Save 40% 39.95$ 23.97$
Background Remover
Save 40% 29.95$ 17.97$

All software sale - actual coupons and discounts
Asoftech Photo Recovery
Have you ever accidentally deleted valued photos, music or videos and looked for a solution before? ...