LingvoSoft Talking Dictionary English <-> Tagalog for Pocket PC 2.7.21 Free download
License:
Free to try
Price:
$

49.95

(Software discounts)
Rated:
Downloads:
107
Op. System:
Pocket PC, Windows Mobile 2003
Last updated:
04-19-2005
File size:
4.38 MB
Publisher:
ECTACO, Inc.
Related software:
Editor's review for LingvoSoft Talking Dictionary English <-> Tagalog for Pocket PC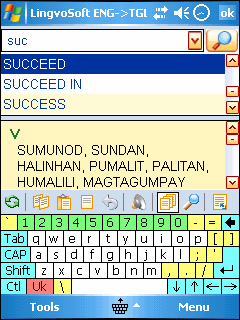 If you have a pocket PC device, you can install this software so that it teaches you how to speak and write Tagalog. The program uses the 'formant synthesis' approach, which enables a perfect simulation of the human voice. You will be able to receive instant translations from Tagalog to English and vice versa. The updated keyboard is compatible with VGA display. The quick search function enables you to get the words you want quickly, as relevant words will start appearing as soon as you start to type. The Word Grabber function gives you an easy way of translating the words you are reading from any application.
Featured downloads
Advanced Access Repair
Save 20% 299.95$ 239.96$
Almeza MultiSet
Save 50% 99.95$ 49.98$
Binary Boy
Save $10.00 14.95$ 4.95$

All software sale - actual coupons and discounts
WARTUNGSPLANER Instandhaltungs-Software
Preventive servicing and maintenance is the basis for undisturbed and perfect working of your machin...